MAC smokey black make up lesson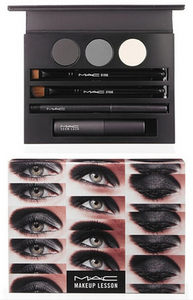 I got this kit as ive always wanted to achieve a perfect smokey eye whilst avoiding looking like ive been punched in the face. MAC brought this out in their Cine-matics collection and i just had to have it. The kit set me back £39.50 and came with three eyeshadows Bisque, Ambience and Carbon. Zoom lash mascara, techinkohl eye-liner (which i'm in complete love with!) A 275 se brush and a 212se brush and of course a step by step guide to complete a sexy,sultry smokey eye.
Heres my results.....
As you can see the 'instagram' app is my BFF
Lots of love
Fayellafairy xxx